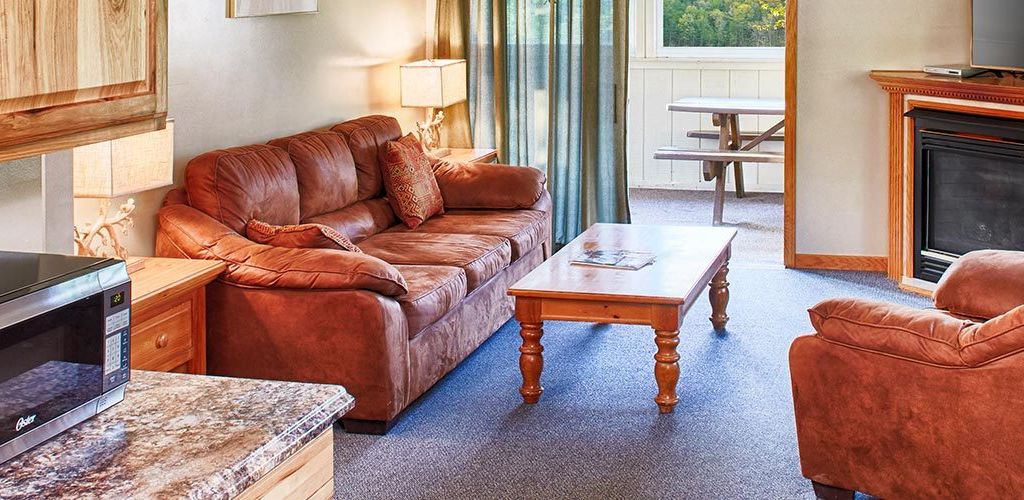 A Rustic Retreat that has Everything
Enjoy an upgraded cabin experience in the heart of Salt Fork State Park. Our two-bedroom chalet, lakeside, and hillside cabins are tastefully decorated, fully furnished and include the modern amenities you need for a comfortable stay. Amenities available in every cabin include WiFi, central air conditioning, cable television, full kitchen, fire ring, two parking spaces, a view of the serene lake, and much more! And, enjoy gas fireplaces and hot tubs in the chalet cabins. Please note: from May 25-September 2, 2018, all cabin getaways that include a Thursday, Friday, or Saturday night require a 2-night minimum stay.
Stay longer – save more! Book a Salt Fork cabin for seven (7) consecutive nights and save at least 20% on your stay when you book using Promo Code STAY7*.
Chalet Cabins
Salt Fork chalet cabins offer guests a retreat to a modern yet timeless setting, which makes them the ultimate getaway for families, couples or friends to discover the wonders of nature in Salt Fork State Park. With a gas fireplace and a private hot tub on an enclosed porch, our chalet cabins give you the chance to truly relax during your stay. All guests are entitled to two parking spaces, located in front of the cabins, identified with your assigned Salt Fork cabin number.
Chalet Cabin Amenities
Lakeside Cabins
Imagine enjoying a morning coffee while watching the sun rise over the sparkling waters of Salt Fork Lake. Our Lakeside Salt Fork Cabins offer you just that, plus panoramic views of Ohio's largest state park. All guests are entitled to two parking spaces, located in front of the cabins, identified with your assigned cabin number.
Lakeside Cabin Amenities
Hillside Cabins
Nestled in the heart of Salt Fork State Park, our Hillside Cabins are perfect for family vacations and romantic getaways. These Salt Fork cabins feature all the comforts of home.  All guests are also entitled to two parking spaces, located in front of the cabins, identified with your assigned cabin number.
Hillside Cabin Amenities
Things To Know
All Salt Fork cabins are serviced prior to your arrival, but do not include daily maid service. We will, however, provide you with fresh linens and sundries upon request during your stay. 
Each kitchen includes a large refrigerator with freezer, a stove/oven, sink, ample countertop space, numerous cabinets, microwave, coffee maker, and automatic can opener. 
Prior to each new guest arrival, the hot tub is completely drained and cleaned prior to refilling. Water temperature is set between 100 to 104 degrees Fahrenheit. 
Telephones are not available in the cabins. 
All Salt Fork cabin guests are entitled to enjoy the many recreational amenities available at the lodge. 
Maximum number of occupants is 6 per cabin. 
Salt Fork cabins are in a no hunting zone. This also means that any bagged game cannot be brought into the cabin area. Please contact the front desk for information on processing centers nearby.
Refrigerator notice 
Placing slightly-cooled to room temperature groceries in the refrigerator and/or cooled items in the freezer is a challenge for many refrigerators. Therefore, it is recommended that the amount stored does not exceed 50% space capacity for the first 12 hours. It is common that, when exceeding 50% space capacity, these units will shut down and may be rendered inoperable. Also note that adjusting the refrigerator temperature controls to a colder setting will not effectively compensate for amounts beyond 50% capacity during these initial 12 hours. During this time, we recommend opening the door as little as possible, and using an ice cooler for beverages. Bulk ice is available at the lodge for a nominal fee if needed. Thank you.
Cabin Supply List
To assist with your travel preparation, the following is a list of supplies available in our cabins.
Bedding
Bath Linen
Furnace Closet
Outside
Kitchen Supplies