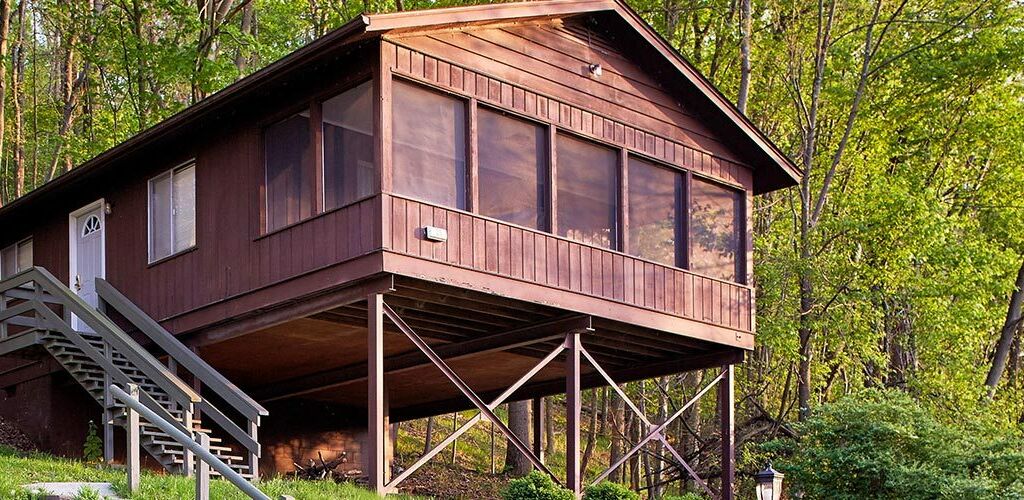 A Rustic Retreat that has Everything
Enjoy an upgraded cabin experience in the heart of Salt Fork State Park. Our two-bedroom chalet, lakeside, and hillside cabins are tastefully decorated, fully furnished and include the modern amenities you need for a comfortable stay. Amenities available in every cabin include WiFi, central air conditioning, cable television, full kitchen, fire ring, two parking spaces, a view of the serene lake, and much more! And, enjoy gas fireplaces and hot tubs in the chalet cabins.
Check-In and Check-Out Times:
Check-in time: 4:00 p.m.
Check-out time: 10:00 a.m.
Cabin check-in is located at the front desk at the lodge.
Things To Know
All Salt Fork cabins are serviced prior to your arrival, but do not include daily maid service. We will, however, provide you with fresh linens and sundries upon request during your stay.
Each kitchen includes a large refrigerator with freezer, a stove/oven, sink, ample counter-top space, numerous cabinets, microwave, coffee maker, and can opener.
Prior to each new guest arrival, the hot tub in each Lakeside Chalet cabin is completely drained and cleaned prior to refilling. Water temperature is set between 100 to 104 degrees Fahrenheit.
Telephones are not available in the cabins.
All Salt Fork cabin guests are entitled to enjoy the many recreational amenities available at the lodge.
Maximum number of occupants is 6 per cabin.
Salt Fork cabins are in a no hunting zone. This also means that any bagged game cannot be brought into the cabin area. Please contact the front desk for information on processing centers nearby.
Refrigerator notice
All cabins are equipped with a full-size refrigerator/freezer. Loading large amounts of warm food into an empty refrigerator is not recommended, so please inquire at check-in about bags of ice.
Cabin Supply List
To assist with your travel preparation, the following is a list of supplies available in our cabins.
Bring your pets too!
You wouldn't want your pet to go on vacation without you, so why go on vacation without your pet? We are pleased to offer five (5) pet friendly cabins so that no one has to be left behind. Learn More >