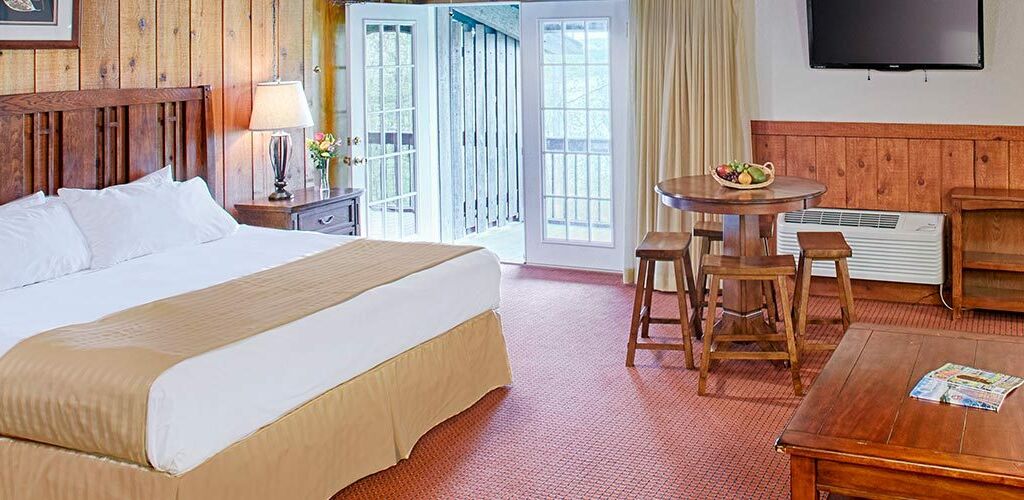 Get Comfortable
Salt Fork Lodge offers 148 guestrooms full of rustic charm, including king, double, bunk and hospitality rooms. The Salt Fork Lodge rooms have a balcony or patio overlooking either the outdoor pool or the scenic hills and woods of southeast Ohio, as well as free parking, central air-conditioning and daily housekeeping service. In addition, many units may adjoin the next room. While Lodge room locations cannot be pre-assigned or guaranteed, preferences will be noted and honored whenever possible.

Check-In and Check-Out Times:
Check-in time: 4:00 p.m.
Check-out time: 11:00 a.m.
Virtual Tours
Bunk Room Virtual Tour
These cozy bunk rooms, which are great for families, include two queen beds and one set of bunk beds. Patio walkouts also available.
View Standard Bunk
Double Queen Room Virtual Tour
These comfortable rooms are ideal for travelers who appreciate having all the comforts of home in their rooms.
View Standard Double Queen
King Room Virtual Tour
These spacious rooms have one king-size bed, refrigerator, and a small table with chairs.
View Standard King