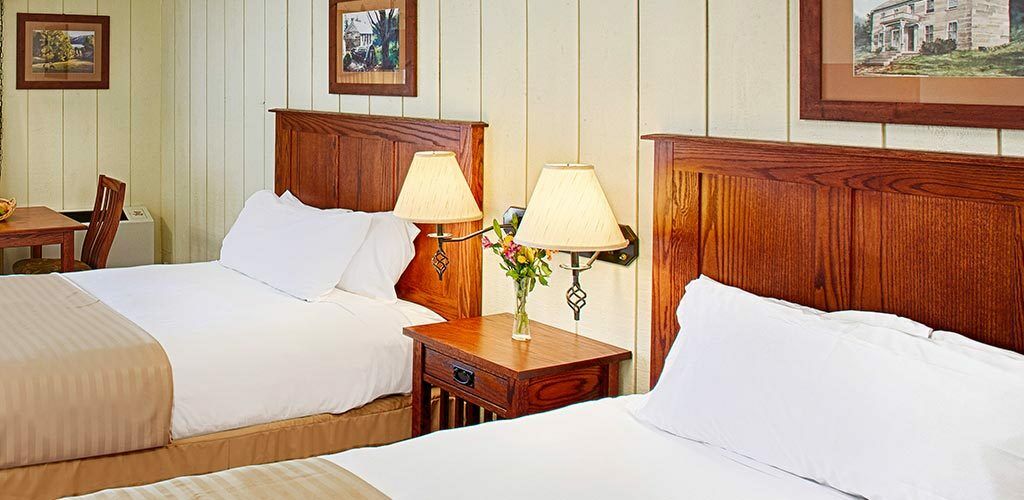 Find Rest and Relaxation
This massive pine beam and stone lodge captures the atmosphere of the grand park lodges built at the turn of the century. Salt Fork State Park Lodge is tucked away in the rolling hills of southeastern Ohio just a short drive from Cambridge, in Ohio's largest state park. The lush wooded surroundings boast miles of recreational trails, wildlife, and impressive views of the sparkling lake.
Salt Fork Lodge offers a variety of comfortable guestrooms, fully furnished two-bedroom cabins and eight meeting rooms for corporate functions. Guests are invited to take advantage of exciting on-site activities or find great outdoor adventures in Salt Fork State Park. Whether you are planning a family getaway, a high school reunion or a business conference, Salt Fork State Park Lodge & Conference Center provides the perfect atmosphere and is one of the premier hotels near Cambridge, Ohio.
Check-In and Check-Out Times:
Lodge Room Check-in time is 4:00 p.m.
Lodge Room Check-out time is 11:00 a.m.
Cabin Check-in time is 4:00 p.m.
Cabin Check-out time is 10:00 a.m.
Salt Fork Lodge Activities & Amenities
Salt Fork Lodge & Conference Center offers a wide array of services, activities and recreational facilities to enhance your stay. Whether you're here on business or for pleasure, our staff always strives to provide an exceptional guest experience, with warm, personalized service, anticipating all of our guests' needs.
Children 14 and under must be accompanied by an adult while enjoying all areas of the lodge and surrounding grounds.